About US
Raghavendra Spectro Metallurgical Laboratory was established in 1998, is conveniently located at Peenya Industrial Area, the nerve centre of Bangalore's steel / metal industry and managed by professional team of highly qualified & experienced in metallurgy and well versed in traceability and retrieving samples as per ISO standards.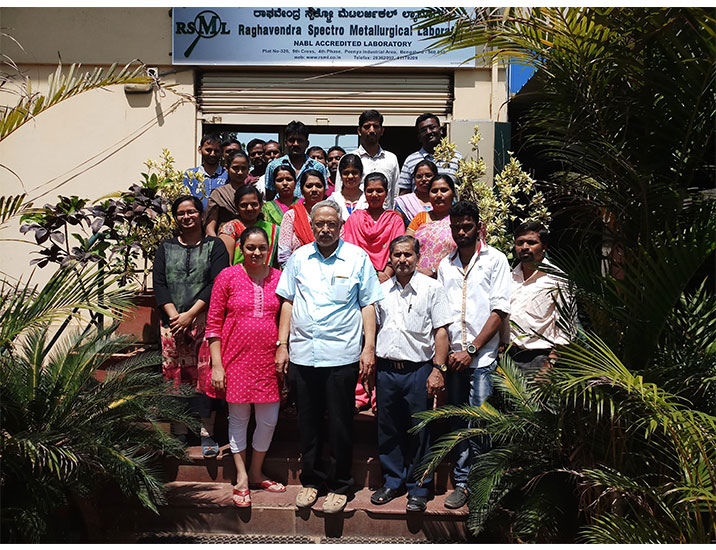 Chemical Analysis of Metal, Minerals & Ores, Chemicals, Cement, Admixture Gold solutions, Silver solutions etc.
Metallography (Micro / Macro) Structure and Image Analysis.
Wet Laboratory, Conventional Method of Chemical, Geological, Minerals and Water ( Portable & Effluent which is approved by NABL and KPCB ) Analysis.
Mechanical Testing like Tensile, Impact, and Hardness.
Non Destructive Testing
RoHS testing as per directive 2011 / 65 / EU for Four Parameters i.e. Lead, Mercury, Cadmium , & Hexavalent Chromium.
To help the growing industries to keep up quality standards in par. The vast experience of RSML personnel in the field of chemistry and Metallurgy is available for solving various problems in production, quality control service and process failure etc.
It is indeed pride to inform all our customers that our laboratory has been approved by Ministry of Defence, Rites, BEML, BEL,BHEL and to name a few private esteemed companies like WIPRO, Hindustan Motors, Ingersoll-Rand, Karmobiles, Delphi International. Widia, Toyota Kirloskar (Bidadi), Caterpillar Power Division Etc.
The sincere hard work and utmost faith of customers in RSML has allowed us to get Accreditation by NABL as per ISO /IEC 17025 for chemical and mechanical testing.
RSML assures you service with a stamp of reliability so that your engineering process is assured of quality.